Upcoming Events — Student International Forum
Published on: May 13, 2022 | Views: 603
Welcome to Join the Journey of Brainstorming and Friendship
Living in the "global village", conversations between different cultures update and enrich people's minds constantly. Viewing from the new starting point, the historical gaps might be shrinking, sparks are colliding with diverse trends of thought, and the remodeled orders are witnessing the changes in concepts.
Therefore, Sichuan University – Pittsburgh Institute will hold a Student International Forum on May 14th to May 15th, 2022, inviting students from six international joint institutions across China to participate in discussions.
Attendance: Online Activities through Tencent Meeting
Forum Theme: Inheritance and Transcendence: Cultural Identity and Youth Responsibilities in the New Era
Agenda: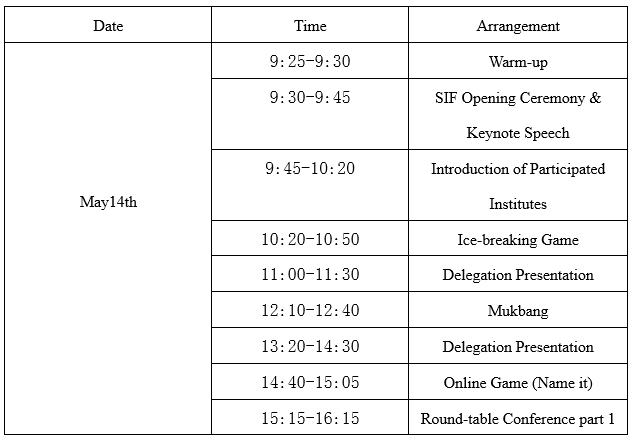 May 15th : Round-table Conference part 2 , Closing Ceremony

Participating Institutions:
Chongqing University – University of Cincinnati Joint Co-op Institute
Surrey International Institute, DUFE
Glasgow College, UESTC
Sichuan University – Pittsburgh Institute
Queen Mary University of London Engineering School, Northwestern Polytechnical University
International Campus, Zhejiang University
---
We sincerely welcome you to participate in this journey of brainstorming and friendship, and look forward to your wonderful speeches and performances!