Congratulations: Lu Yinsheng Was Admitted to the PhD Program at the School of Engineering & Applied Science, Yale University
Published on: March 30, 2023 | Views: 1531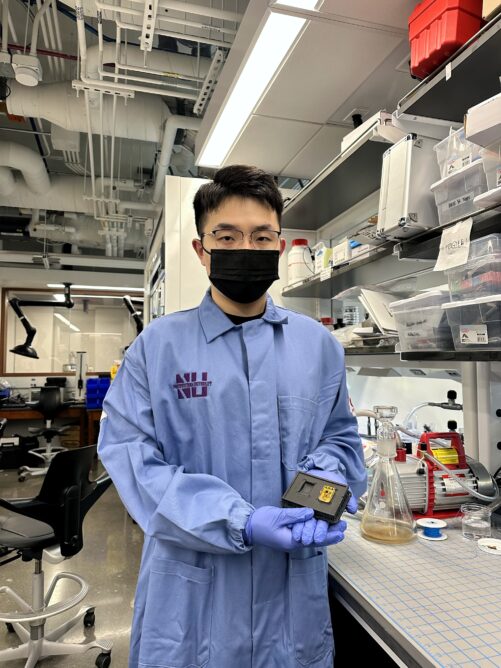 Lu Yinsheng, a class of 2021 student from Sichuan University-Pittsburg Institute (SCUPI), majoring in Materials Science and Engineering (MSE), has been admitted to the Ph.D. programs for Materials Science and Engineering (MSE) at the University of Pennsylvania (UPenn) and Mechanical Engineering and Materials Science (MEMS) at Yale University.
During his freshman and sophomore years at SCUPI, Lu excelled in academics and was ranked at the top of his major in his freshman year. He also joined many organizations and participated in a variety of campus activities in his sophomore year, including the Institute's Student Council, the University's CYL Culture and Arts Department, and sports teams such as the football and basketball clubs.
In his junior year, Lu Yinsheng transferred to the Swanson School of Engineering in the University of Pittsburgh and continued his studies by earning a bachelor's degree in MSE through the 2+2 dual-degree program. The English-language instruction at SCUPI provided a good transition for Lu's study abroad, and the active learning model laid a solid foundation for his studies abroad. During junior and senior years at the University of Pittsburgh, he actively participated in research projects and gained valuable research experience.
During his master's degree application, Lu Yinsheng received acceptance letters from several prestigious overseas universities, including Cornell University, Columbia University, Northwestern University, and the University of California, Berkeley. Finally, he chose to continue his studies in Materials Science and Engineering at Northwestern University, where he primarily focused on flexible electronics. Currently, he has an article accepted by a Nature sub-journal and plans to submit more articles to similar publications.
Although Lu Yinsheng has not yet decided on his future plans for the next five years, he believes that pursuing a Ph.D. will be an opportunity to shape his personality, accumulate experience and broaden his horizons. It is the most valuable treasure that he obtained throughout his journey from Sichuan University to the University of Pittsburgh to Northwestern University. "Uncertainty" means infinite possibilities. Lu has been confronting uncertainty since he chose to attend SCUPI, but he has never stopped actively planning his future and exploring various possibilities. He has continually set new goals while immersing himself in different cultures and experiences. He has held onto his clarity of mind and expanded his connections with the world amid the torrent of information. Wish Lu Yinsheng the best as he continues to move forward into the unknown!