2019 Sichuan University Freshman Cup English Essay Competition
Published on: January 13, 2020 | Views: 2691
On December 14, 2019 Sichuan University (SCU) Vice President Bin LIANG, leaders from the Construction Bank of China's Chengdu branch, representatives from over ten Sichuan University colleges, leaderships of the Sichuan University-Pittsburgh Institute (SCUPI), students and other guests gathered at Sichuan University's Jiang'an Campus Institute for Disaster Management and Reconstruction to witness the final round of the SCU Freshman Cup English Essay Competition, sponsored by the Construction Bank of China. Judges for this year's event included award winning writer and journalist, Leslie Chang, former reporter and anchor for CNN and NBC, Farland Chang, and Clemson University professor, Dr. Matthew Boyer. VP Bin LIANG opened the event with a speech on the importance of writing in today's world.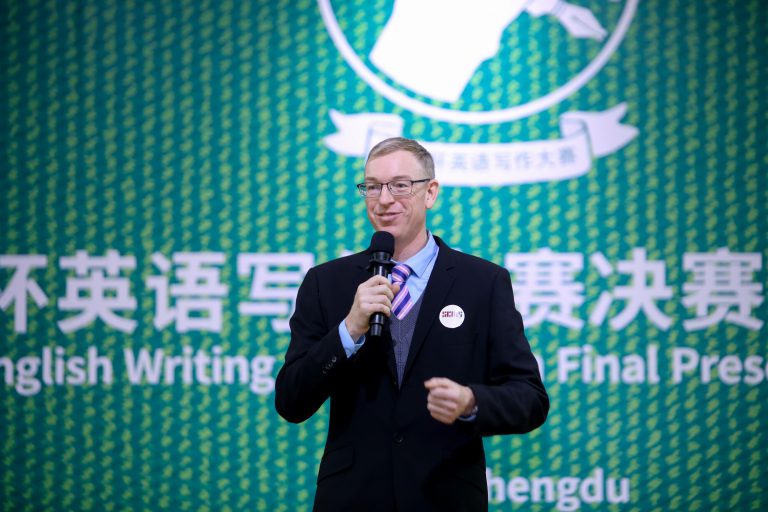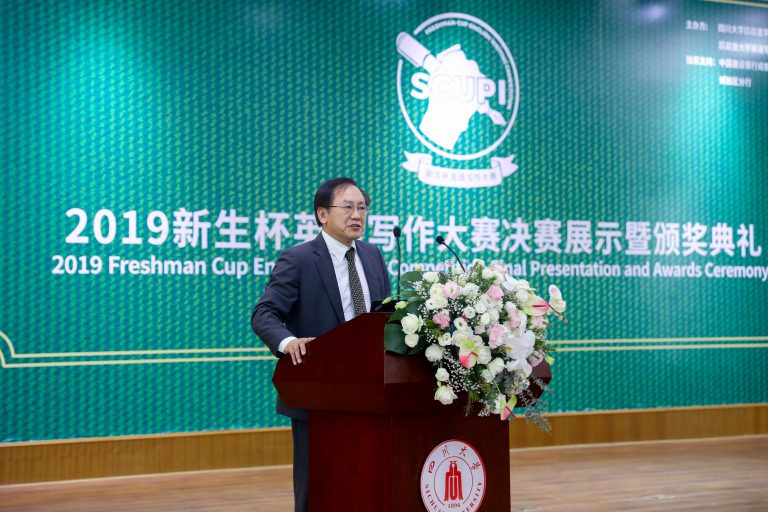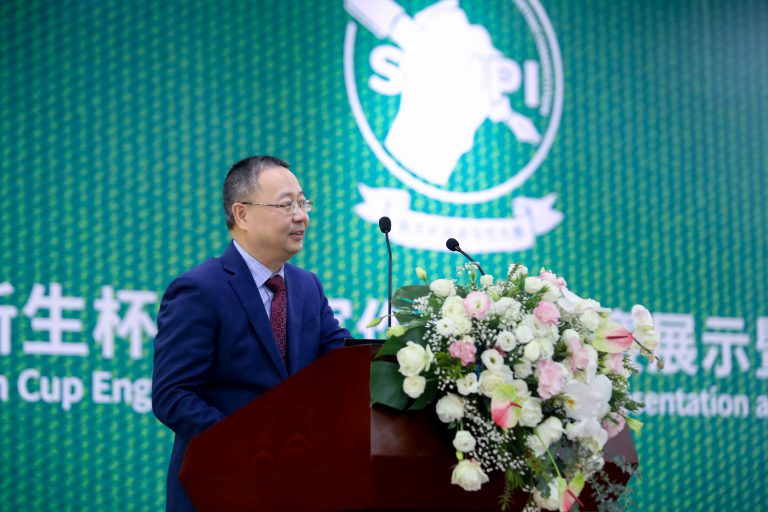 The topic of this year's competition was "The Choice," and students had to write about a transformative choice they made in their lives. Over 1000 SCU freshman registered for the competition. 600 of these students participated in workshops conducted by the SCUPI Writing Center. After the workshops were completed a total of 380 students submitted their work for competition—twice the number of last year's competition.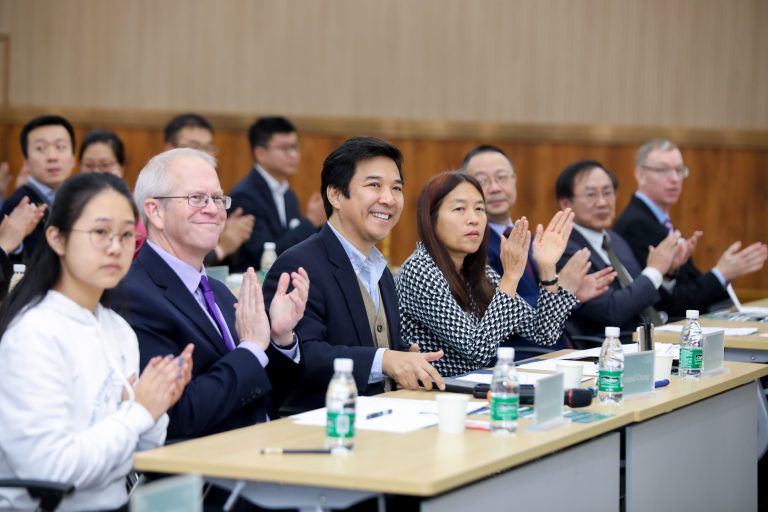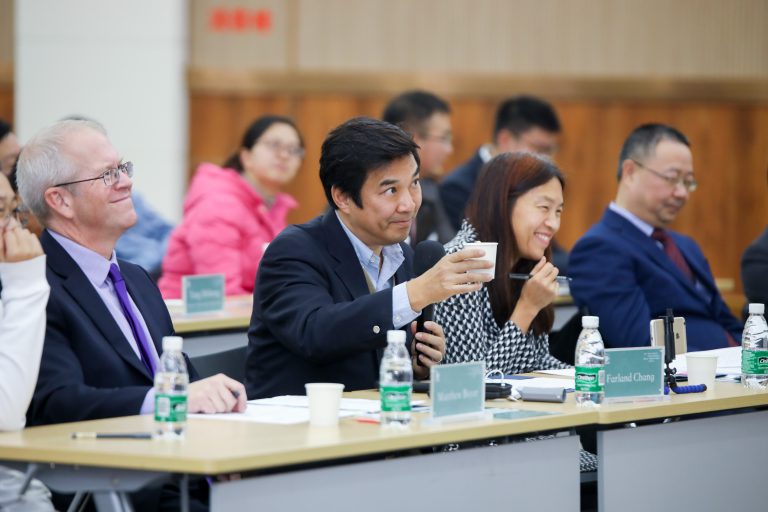 The top ten papers that were selected for the final round included: "Choice of Education" by Ziluolan Ahmadi from the Business School (紫罗兰·艾合麦提, 商学院), "Newton on My Desk" by LI Xinyang from the College of Electrical Engineering (李昕旸, 电气工程学院), "Sanitary Pad" by WANG Yuqiu from the College of Polymer Science and Engineering (王雨秋, 高分子科学与工程学院), "Forgive or Forget" by LI Zhongyi from the West China School of Pharmacy (李钟懿, 华西药学院), "A Brave Girl on the Bus" by ZHANG Rui from the Tourism School (章睿, 历史文化学院: 旅游学院), "My Permanent Love for Math" by LIU Yu from the College of Mathematics (刘昱, 数学学院), "For the Sake of Auld Lang Syne" by GAO Yunfei from the School of Mechanical Engineering (高云飞, 机械工程学院), "One Choice, Forever Memory (Buffalo)" by LIU Xiujuan from the College of Polymer Science and Engineering (刘秀娟, 高分子科学与工程学院),  "A Vital but Vain Choice" by WANG Ruixin from the West China School of Stomatology (王蕊欣, 华西口腔医学院), and "Tell The Truth or Lie" by SU Qihang from the Law School (苏琦航, 法学院).
In total these ten students competed in three rounds. The students' results were determined by their original submissions, which counted as 35% of their scores; a timed writing competition that asked students to reflect on their submitted essays, which counted as 45% of their scores; and an essay presentation that included highlighting their papers as well as answering judges' questions, which counted for the final 20% of the contestants' final scores.
After an entertaining round of presentations, questions and answers, as well as moving reflections from the judges on the participants' essays, the students' final scores were tallied. First place was awarded to GAO Yunfei with a prize of 6000RMB. Second place was awarded to LI Zhongyi and LIU Yu with a prize of 3000RMB each. Third place was awarded to LI Xinyang, WANG Ruixin, and SU Qihang with a prize of 1000RMB each.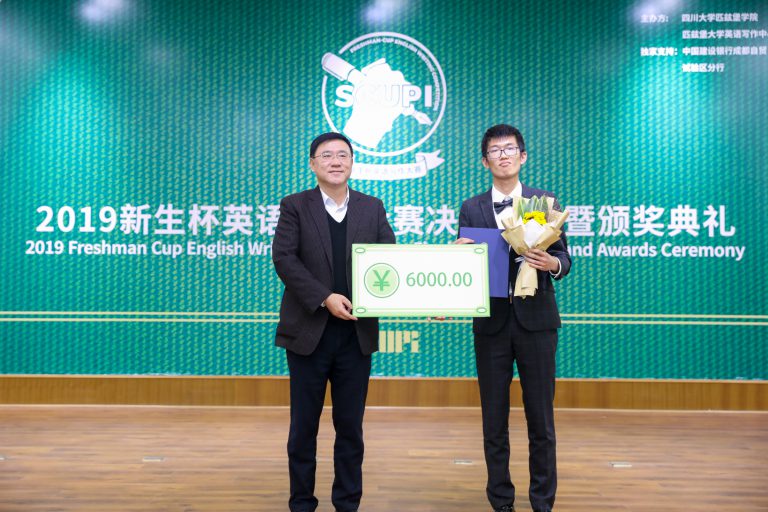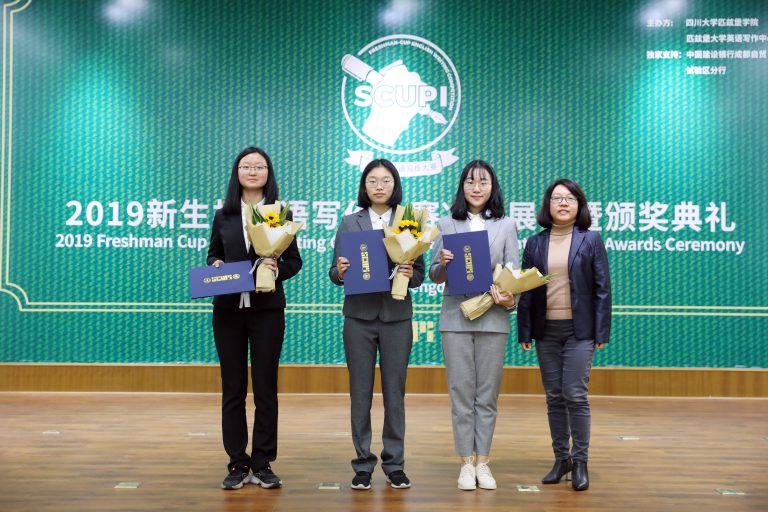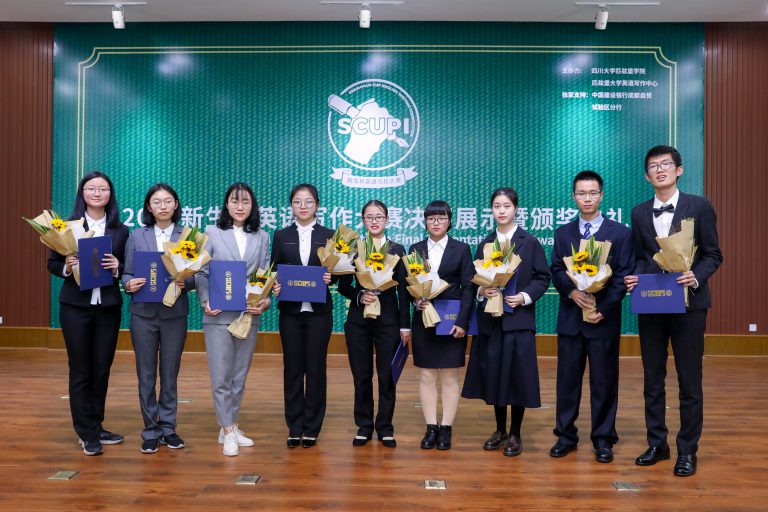 The judges who scored the first two rounds of competition included Dr. Peter Hessler, David Jeffrey, Dr. Areum Jeong, Dr. James McDougall, Dr. John Rhym, and Dr. Teresa Zhang. These scholars were also active in conducting the student workshops. SCUPI students Sariel Cheng and Alice Xiao hosted the event. All in all, the competition emphasized process, creativity, and reflection. The students were not only able to use the contest as a way of displaying their outstanding talent, but also learning about themselves and others through writing.