2016 Matriculation Ceremony
Published on: September 21, 2016 | Views: 2719
On Sunday, September 18, 2016, 2pm, Matriculation Ceremony for class of 2016 was held at International Conference Hall, third floor, Sichuan University – The Hong Kong Polytechnic University, Institute for Disaster Management and Reconstruction (IDMR). Gerald D. Holder, the Dean of Swanson School of Engineering, Xie Heping, the President of Sichuan University, Li Guangxian, the Executive Vice President, Bu Hong, the Vice President,Yan Shijing, the Vice President, Minking Chyu, the Dean of Sichuan University – Pittsburgh Institute (SCUPI), Gretchen Kalonji,Dean of IDMR, Michael Reed, the Associate Dean of SCUPI attended the ceremony. Representatives from other departments and schools, all faculty, staff, and sophomore students from SCUPI, and over 100 parents attended the ceremony to celebrate the second class of 160 students' beginning of their academic journey at the SCUPI. The Executive Vice President of Sichuan University, Li Guangxian chaired the matriculation ceremony. President Xie gave a welcome speech to congratulate the class of 2016 students for becoming a SCUPIAN, and he also extended his gratitude to Chancellor Gallagher and Dean Holder for their effort and support on the Institute. He expressed his expectation to class of 2016, be independent, be responsible and to expand international outlook.


Dean Gerald D. Holder gave a warm welcome to the new students on behalf of Chancellor Patrick Gallagher. He expressed his gratitude to the leadership of Sichuan University on behalf of the University of Pittsburgh. Dean Holder encouraged SCUPI students to use their university experience and the knowledge they gain to become global citizens.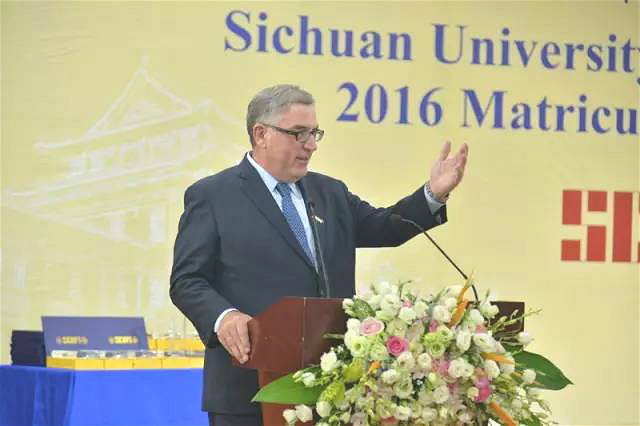 Six student representatives came up to the stage and took the oath of Honor Code on behalf of all students and signed their names on Matriculation Book. 30 students representatives came up to the stage and shook their hands with President Xie, Dean Holder, and Dean Chyu, and accepted SCUPI badges, which symbolized a brand new chapter of their academic life.